Fluke Introduces Ti450 Infrared Camera with MultiSharp Focus
March 16 2016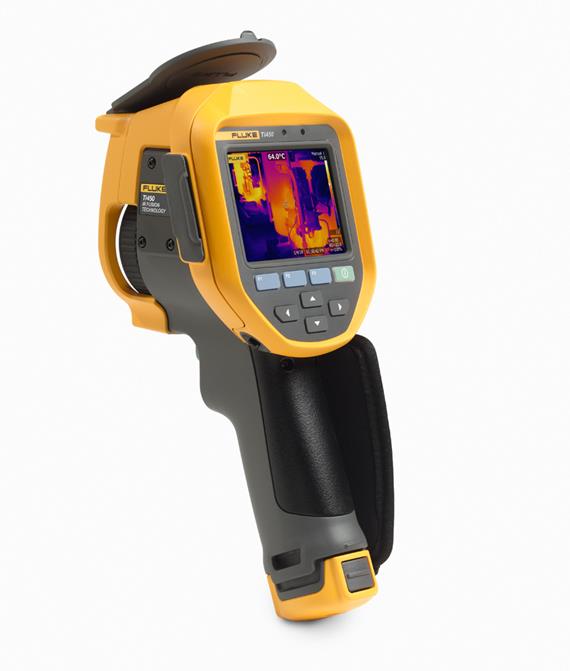 Fluke introduces Ti450 Infrared Camera that includes a SuperResolution mode that increases effective image resolution to 640 x 480, a 2x and 4x digital zoom that enables a user to zoom in on a small part of a target, and LaserSharp Auto Focus that delivers instant focus on a single target, using a built-in laser distance meter to calculate and display the distance to the designated target with pinpoint accuracy.
MultiSharp Focus is a technology that rapidly takes multiple images and combines them to produce one in-focus image. The advanced focusing system enables users to capture an automated, focused image of multiple targets at once, delivering the image clarity needed by professional thermographers and maintenance managers to produce top-quality results and avoid costly rework.
The wireless Ti450 is part of Fluke Connect — a system of wireless test tools that communicate via the Fluke Connect app, or Fluke Connect Assets software, a cloud-based solution that gathers measurements to provide a comprehensive view of critical equipment status. With Fluke Connect, infrared images can be uploaded from anywhere and combined with measurement data from multiple Fluke Connect test tools to create and share comprehensive reports from the job site via email and collaborate in real time with other colleagues, increasing productivity in the field.

"We are excited to announce this new technology, because it makes a real difference in situations where you have objects at multiple distances that you want in focus. Places like substations, motors driving a long production line, or electrical panels with components at varying depths," notes Chris Rayburn, thermography business director.
"At Fluke we spend a lot of time in the field with our customers. We know how important and difficult it is to get an in-focus image the first time. To meet their needs in the Ti450, we have included additional features professional thermographers need most for clear, crisp images," added Rayburn.
Related Videos